从马尔地夫北马累环礁(North Malé Atoll)的Fari群岛海面上方鸟瞰,可见一处圆形现代感建物,那正是马尔地夫Ritz-Carlton酒店。Ritz-Carlton本月在马尔地夫拓点,这是Ritz-Carlton在马尔地夫的第一处据点,找来专研亚热带酒店设计的澳洲建築事务所Kerry Hill Architects操刀设计,以极简风格、环保料材在湛蓝海面上打造一座现代感建物,而Ritz-Carlton在软体规划上,不仅专注於当地得天独厚的自然景致,也更强调酒店与在地文化的连结。
为了与当地众多高级度假村做出区隔,Ritz-Carlton希望能以酒店为渠道,引领住客深入探索当地自然景致。因此,当澳洲建築事务所Kerry Hill Architects设计建築外观时,以圆形轮廓呼应周围潟湖景观,也象徵岛屿生态不停循环且生生不息的本质,以当地特色开展的设计想法,让马尔地夫Ritz-Carlton酒店成为Fari群岛风景的延伸,与四周旖旎风光共生共荣。
马尔地夫Ritz-Carlton酒店由约百座Villa共构而成,分为海上、海滨两种住宿形式,房内皆设有私人泳池、室内外淋浴间及户外休憩空间,供住客随时享受壮阔海洋景观。公共设施也十分完善:大型儿童俱乐部、网球场让家庭享受亲子时光,摄影工作室提供器材租赁及使用教学,还有海岛旅行必须畅遊的水上运动专区,当然也少不了度假村不可或缺的Spa水疗中心,Ritz-Carlton不仅与英国品牌Bamford展开合作,选用天然有机产品为住客提供顶级服务,更精心挑选在地材料如热沙、椰子与天然草药开发特色疗程。
度假村的另一个亮点是这里的美食。岛上共有7个饮食区,当中就包括新加坡 The Ritz-Carlton, Millenia Singapore 米其林星级餐馆Summer Pavilion 夏苑中餐馆,由入行超过30年的张肇刚师傅(Cheung Siu Kong)特别设计菜单,所以在岛上也能品尝到经典的广东菜。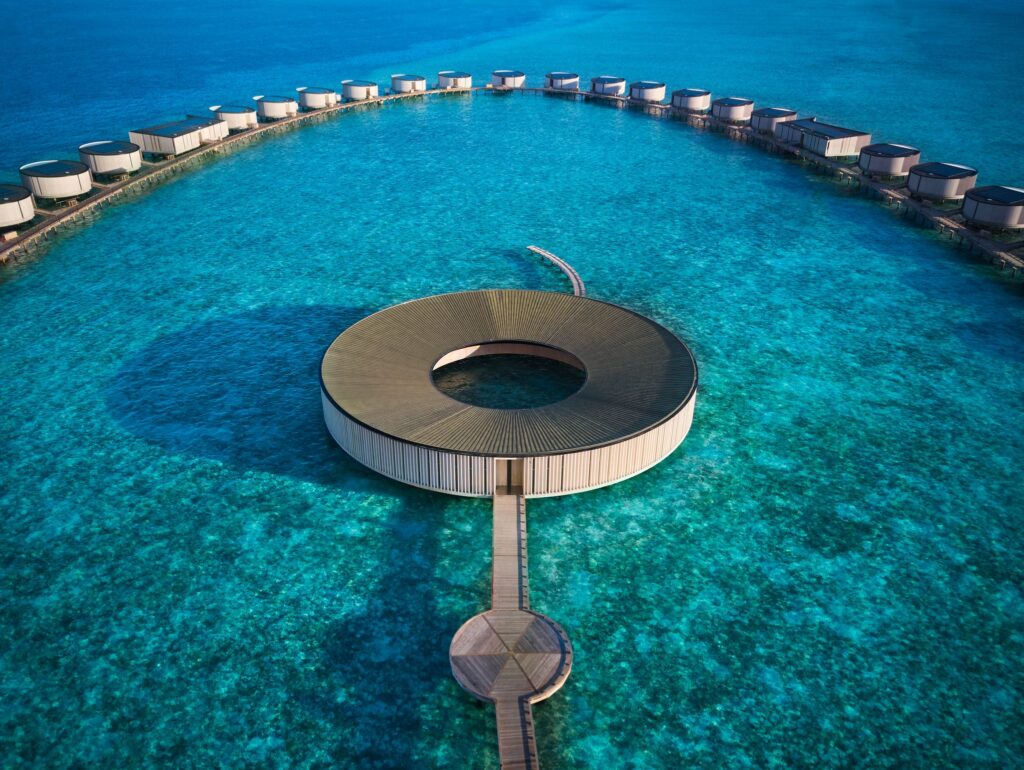 The Ritz-Carlton Hotel finally launches its first resort in Maldives-  The Ritz-Carlton Maldives, Fari Islands. Located on the Fari Islands, an archipelago on the north-eastern tip of North Malé Atoll, the area is famous for its untouched white-sand beaches and brilliant azure waters teeming with marine life. Featuring stunning minimalist architecture, the resort invites guests to embrace the beru, or circle of island life, and welcomes them into a world of exceptional luxury and memorable experiences.
Easily accessible via a scenic ten-minute seaplane ride, or a 45-minute luxury boat ride from Velana International Airport, the resort is part of the picturesque Fari Marina with its vibrant Beach Club, charming boutiques and tempting eateries forming the archipelago's communal heart. The Ritz-Carlton Maldives, Fari Islands is ideal for guests seeking a holiday of discovery or exploration for the whole family.
Designed by the multi-award winning Kerry Hill Architects, The Ritz-Carlton Maldives, Fari Islands is inspired by its natural surroundings, including the elements of swirling water and ocean breezes, which are incorporated into a design narrative that is rooted in the shape of a circle that also represents the flow of island life. The resort features 100 luxurious one- to three-bedroom villas, either set over crystal clear waters, or nestled along pristine beach coves, each offering spacious living spaces that blur the line between indoors and outdoors with panoramic sliding doors, a sun deck with a private infinity pool and breathtaking views. The resort's minimalist design is respectful of its visual impact on the environment and draws much of its natural surroundings into the guest experience. As part of the legendary, highly personalized service of The Ritz-Carlton, and inspired by the ancient royal customs of the Maldivian royal courts, each room is assigned an 'Aris Meeha' or island butler to fulfil a guest's every wish.
With seven distinct culinary venues, The Ritz-Carlton Maldives, Fari Islands strikes the perfect balance between high-end dining, beachfront luxury, and wellness-centered menus. Within a beautiful lantern-inspired overwater space, Summer Pavilion takes inspiration from The Ritz-Carlton Millenia, Singapore's Michelin-starred restaurant, showcasing contemporary Cantonese cuisine. Iwau, or 'celebrate' in Japanese, is an open-air restaurant with two teppanyaki grills for a multi-sensory dining experience. La Locanda serves rich espressos in the morning, while aperitifs in the setting sun preludes an evening of delightful southern Italian cuisine. The family-friendly Beach Shack is inspired by the carefree spirit and relaxed cuisines of the Mediterranean, featuring shared plates and grilled seafoods. Eau Bar welcomes guests to a laid-back glamourous setting, where guests can indulge in fresh oysters and caviar while sipping on tableside crafted cocktails, while afternoon tea gets a Maldivian twist and sunset is celebrated each evening with a captivating drums and fire ritual.