以微绘珐琅和丝线所勾勒的天堂巨嘴鸟光芒四射,为Arceau系列腕表编织五彩缤纷、别具一格的面貌。Arceau系列腕表由Henri d'Origny于 1978年设计,含蓄内敛却又不失新颖创意, 以其经典线条孕育爱马仕令人目不暇接的 创造性和精湛工艺。镶嵌美钻的圆形表壳 搭配不对称马镫形表耳,表盘上装饰一只色 彩鲜艳的巨嘴鸟,将精湛工艺展露无遗。
这只拥有巨大彩色嘴喙的热带鸟类,是对插画家KatieScott于2020年创作的天堂巨嘴鸟丝巾的焕新演绎。这位热衷于动植物主 题的年轻英国艺术家,以其独特的动植物绘 画风格而声名鹊起,并为丝巾图案创造出生 有华丽羽翎的奇异珍禽。这种悠游于幻想和自然之间的独特表现手法,将Arceau系列腕表带往崭新的艺术境界。
这款腕表的表盘结合了两种历时五年才开发 完成的高难度杰出工艺:微绘珐琅的浓郁色彩,及其衬托凸显的五彩丝线技法。爱马仕的 丝线工艺独具一格,其灵感源自日本的一间和 服织造工坊。这只亚马逊珍禽因其生动的图 案设计脱颖而出:它采用了500根丝线逐一铺 排而成,前后需投入整整一周时间,才得以展 现其栩栩如生的样貌。
首先,白金底座须事先涂上珐琅釉彩。工匠 会运用极细的画笔涂抹混合天然油脂的玻璃 粉末,如此层层上色,待干燥后再送入窑炉煅 烧,如此反复进行操作。珐琅表面刻有凹槽, 记录接下来要固定丝线的位置。为营造光影效 果,每根丝线都经过精心定位和固定,以确保 丝线方向完美一致,辉映亮丽光泽。
独特表盘镶饰82颗钻石,装配于直径38毫米 的白金表壳中,内部搭载爱马仕自制的H1912 自动上弦机械机芯。表带选用桑给巴尔蓝小 牛皮,由爱马仕钟表工坊精心设计,令这款独 特腕表的色彩更显突出靓丽;腕表限量编号发行24枚。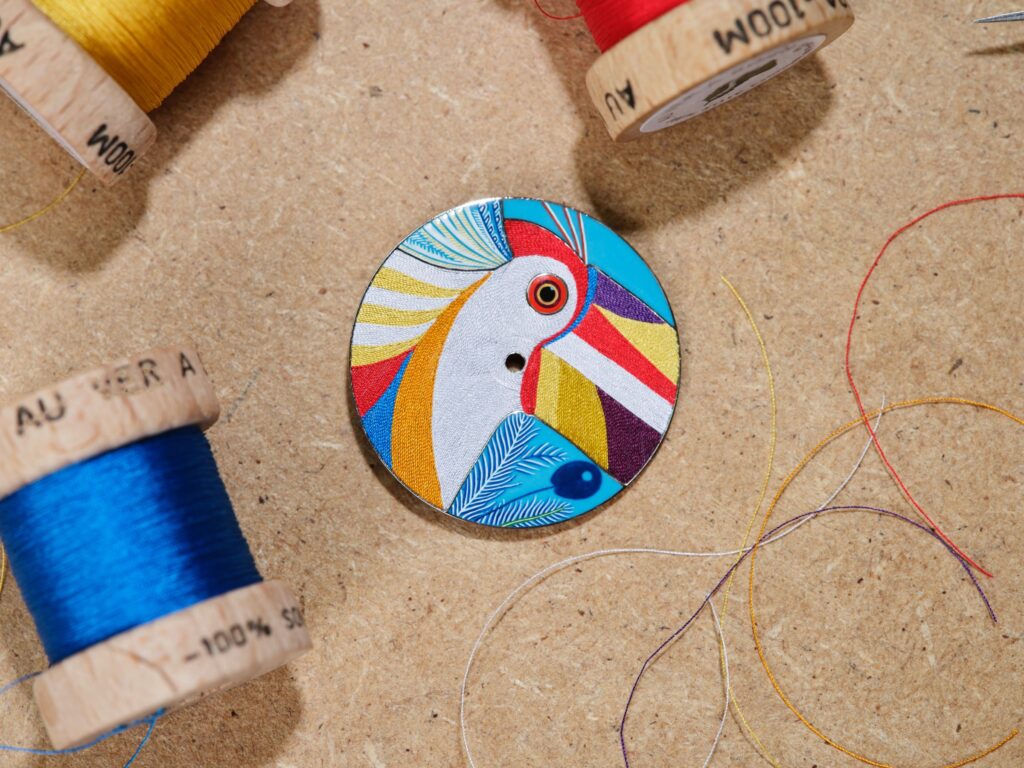 The Arceau watch weaves a colourful and singular tale In the guise of a radiant miniature enamel and silk thread toucan.
The understated yet original Arceau watch designed in 1978 by Henri d'Origny lends its classic lines to dazzling illustrations of Hermès creativity and expertise. Its diamond-set round case with asymmetrical stirrup-shaped lugs frames a dial adorned with a brightly coloured toucan, revealed by exceptional craftsmanship skills.
The tropical bird with its oversized and colourful beak was reinvented by illustrator Katie Scott for the Toucans de Paradis silk scarf in 2020. The youthful British artist, who is passionate about flora and fauna and has made a name for herself with her characteristic style of botanical and animal illustrations, has created a fantastic species with decorative plumage. This exotic representation, hovering between fantasy and naturalism, lends a new artistic dimension to the Arceau watch.
Its dial associates two highly demanding and remarkable crafts that took five years to perfect: multicoloured silk threads, highlighted by the intensity of the miniature enamel. The unique and exclusive Hermès silk thread technique was inspired by a kimono weaving workshop in Japan. Chosen for its vibrant design, the Amazonian bird is composed of 500 individually assembled threads and is brought to life by a full week of fine craftsmanship.
The white gold base is first enamelled. The artisan uses a very fine brush to coat it with glass powders mixed with natural oils, which are then applied in several layers, dried and fired in the kiln. Recesses to house the silk threads are engraved around the enamelled surfaces. Each thread is meticulously positioned and fixed into place with infinite care so as to create subtly shimmering light and preserve a perfect weave.
Embellished with 82 diamonds, this unique dial is framed by a white gold case measuring 38 mm in diameter and housing the Hermès H1912 self-winding movement. Created in the Hermès Horloger workshops, a Zanzibar blue calfskin strap highlights the colours of this exclusive watch, issued in a numbered limited edition of 24.