蘇富在今年六月与音乐界传奇及艺术收藏家周杰伦进行破天荒跨界合作,呈献一场结合流行娱乐及艺术的非凡盛事。这次合作同时标志着蘇富比全球广受好评的"Contemporary Curated"拍卖系列将首度登陆亚洲。
被誉为华语流行音乐天王,周杰伦集音乐家、创作歌手、演员和导演等不同角色于一身,其音乐、舞台演 出和电影感动了万千观众。他同时也是一位充满热忱的艺术收藏家,在亚洲及国际艺术界稳占一席位。
作为首届"Contemporary Curated: Asia"的策展人,周杰伦透过挑选及策划一系列艺术佳作,展示其前 瞻视野和过人品味。晚拍将由尚 · 米榭 · 巴斯基亚(Jean-Michel Basquiat)于 1985 年创作的《无题》领衔。
Sotheby's is thrilled to announce Jay Chou X Sotheby's, a ground-breaking collaboration between Sotheby's and legendary musical icon and avid art collector Jay Chou. A trailblazing partnership uniting entertainment and fine art, the much-anticipated auction marks the grand inaugural edition of Sotheby's celebrated Contemporary Curated auction series in Asia.
Known as the "King of Mandopop", Jay Chou is an international pop musician, singer-songwriter, actor and director whose music, stage performances and movies have captured the hearts of millions. Jay is also well recognised in the Asian and international art scene as a passionate and avid art collector.
As eminent curator of the inaugural edition of Contemporary Curated: Asia, Jay demonstrates his cutting-edge taste and vision through selecting and curating a distinguished assemblage of exceptional works. The Evening Sale is led by Jean- Michel Basquiat's Untitled from 1985, an iconic work that was featured on the cover of The New York Times Magazine in 1985.   
《无题》是极为典型的巴斯基亚巨幅画作,也是艺术家其中一幅最具代 表性的知名作品,曾经在 1985 年登上《纽约时报》杂志封面。 1985 年是巴斯基亚跻身国际知名艺术家行列的巅峰时刻,由荣登国际 刊物《纽约时报》杂志封面可见他当年是如何的意气风发。在这张封面 照中,他决定坐在本次上拍的画作前留影,奠定了此画象征其事业成就 的崇高地位。 《无题》是由木板组成的三联屏,画作把三项元素并列,包括巴斯基亚 的标志性黑人战士,其借鉴了非洲面具的视觉语汇;在阿兹特克传说中 是骁勇化身的美洲豹;以及酷似骑士唐吉诃德的人物。这样一来,巴 斯基亚将非洲和中美洲视觉文化的原始凶猛与欧洲骑士精神和传统的 浮夸形成强烈对比。
1985 represents the absolute apex of Basquiat's rise to international recognition, as attested by his cover feature in a publication as prominent as The New York Times Magazine. By choosing to position himself in front of the present work for that photograph, Basquiat cements Untitled as the embodiment of that seminal pinnacle in his career. Created in a triptych format, Untitled juxtaposes Basquiat's iconic black warrior, which draws on the visual vocabulary of African masks, and the Jaguar, an important Aztec warrior symbol, with a figure resembling Don Quixote, Miguel Cervantes' farcical knight errant. In so doing, Basquiat contrasts the raw ferocity of African and Mesoamerican visual cultures with the pomposity of European chivalry and tradition.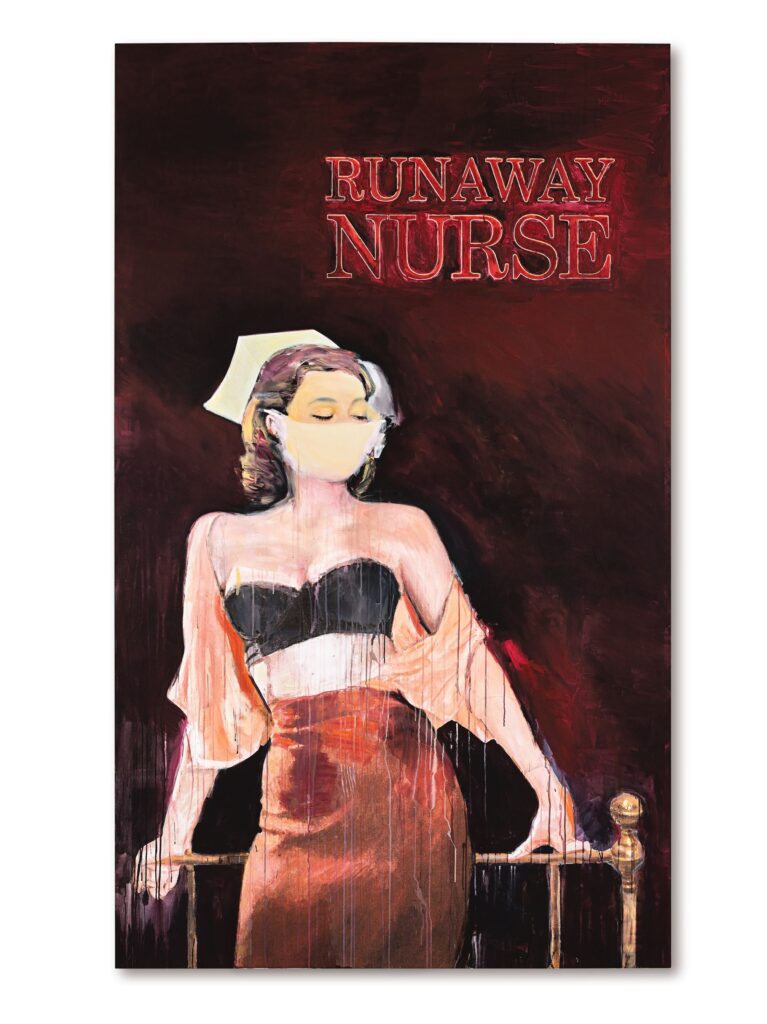 理查德 · 普林斯作于 2005-2006 年的《逃脱的护士》属艺术家笔下闻名遐迩 的《护士》油画系列中最美艳及别树一帜的绝妙之作。本作分别向两本老式 著作—1948 年出版的电影黑色犯罪小说《吻别明天》及 1964 年的言情小说 《逃脱的护士》—致敬。《逃脱的护士》挑衅氛围浓厚,同时弥漫知性思 想,挑战传统的性别社会架构,体现贯彻普林斯艺术生涯、试图颠覆原作 者、真伪性和身份等复杂的创作宗旨与概念。
Runaway Nurse from 2005-2006 by Richard Prince is amongst the most beautiful and unique within the artist's celebrated Nurse Paintings, nodding to not one but two vintage novels: the 1948 film noir crime novel Kiss Tomorrow Goodbye, and the 1964 dime-store novel Runaway Nurse. Charged with provocation and intellectual rigour, Runaway Nurse challenges traditional gender constructs while encapsulating Prince's complex conceptual project which has long sought to subvert notions of authorship, authenticity and identity.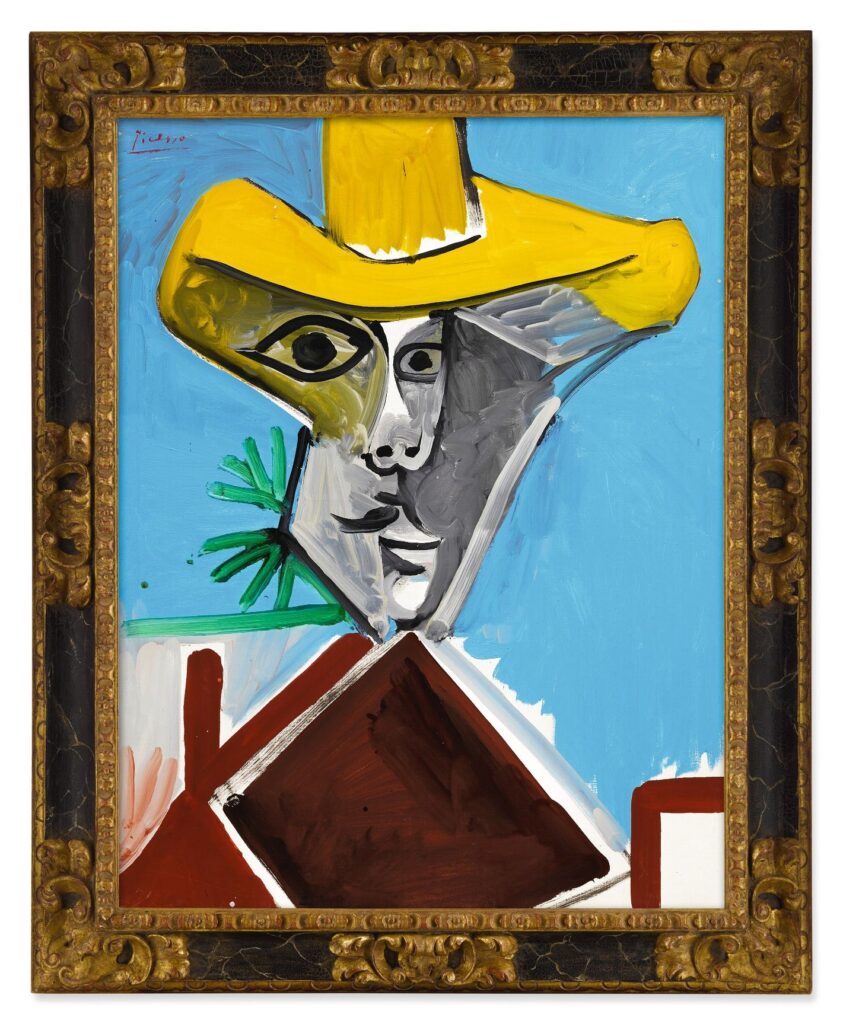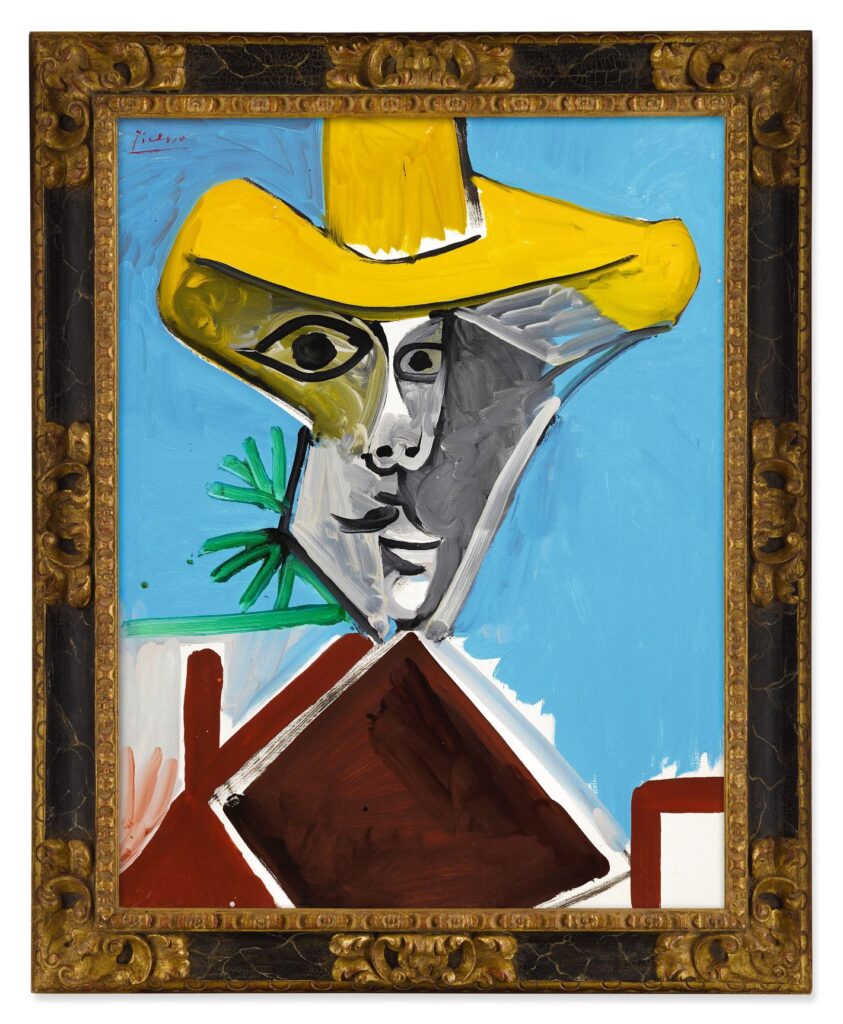 作于 1969 年的《男子半身像》囊括了毕加索晚期作品的关键性题材,是 一幅饶富震撼力的肖像作品。此作源自于毕加索为钻研探索梵谷绘于 1887 年的标志性的自画像《戴草帽自画像》而成就的一系列屈指可数的 作品。毕加索除了透过画作对梵谷表示敬仰之意,更加入了其另一个自 我形象,一名步枪手,并通过人物脸上嬉闹逗趣的半胡子以作辨认。如 此一来,毕加索便机智地表述了自己在艺术历史上的地位。
Executed in 1969, Buste d'homme is a powerful portrait that encapsulates the key themes of Picasso's late work. The portrait belongs to a small group of works in which Picasso explored one of Van Gogh's most powerful portraits, Self- Portrait with a Straw Hat from 1887. Picasso combines this tribute to Van Gogh with the figure of his alter-ego – the musketeer, identifiable through the playful half moustache. In so doing, Picasso makes a powerful statement about his place in the history of art.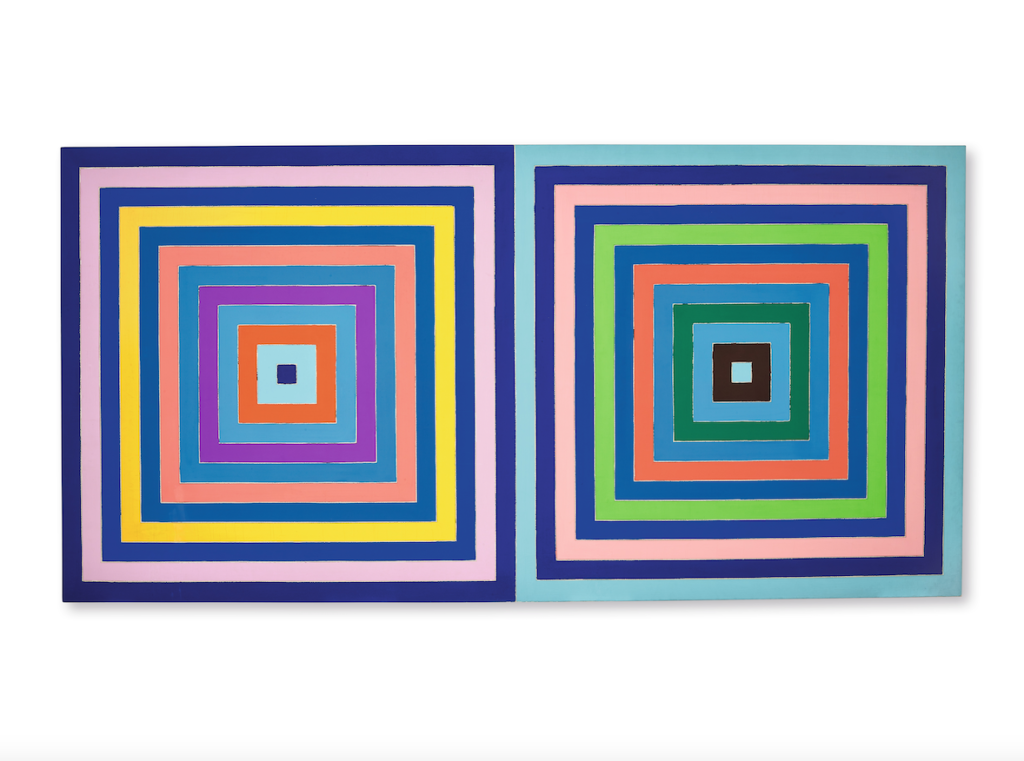 无题(双同心正方形)》色彩错综,光彩夺目,斑驳之余协调佳宜有道,实为令人眼前一亮。本作集斯特拉的精 研与学识渊博于一画,不仅堪称二十世纪极简主义的象征,更为当代艺术的演进首屈一指的辉煌成就和革命性代表。
Untitled (Double Concentric Square) is scintillating in its electric hues and elegant orchestration of colour harmonies. Encapsulating Stella's brilliant and incisive intellectual rigour, the work is emblematic of Twentieth-Century Minimalism and represents one of the most stridently revolutionary and cogent achievements in the canon of Contemporary Art.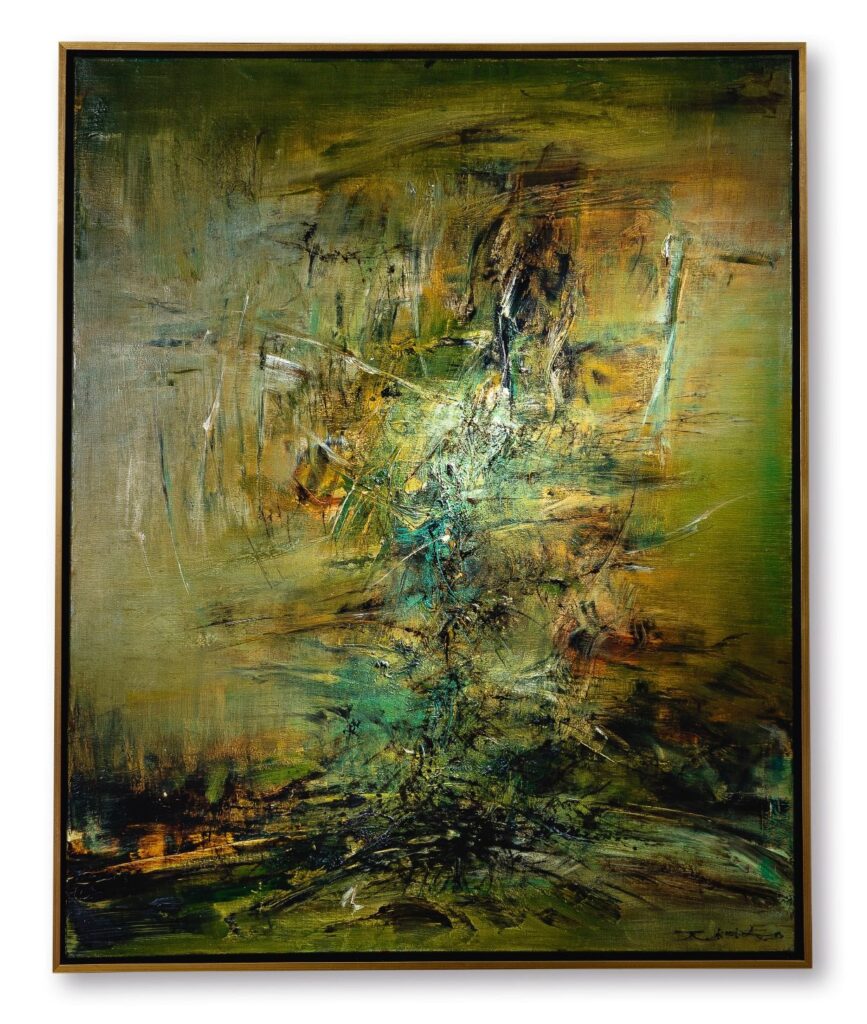 《14.05.63》是赵无极六〇年代事业进入黄金「狂草时期」的经典代表 作,立足东方传统山水与现代抽象美学之追求,聚焦空间表现,释放 自我驰骋于宇宙与自然的精神境界。画面以山水之形呈现天地之变动 与生命之震颤,线条交错、跃动,营造气势磅礴的山峰蜿蜒攀升之态。
14.05.63 is an exquisite example from Zao Wou-Ki's celebrated 1960s Hurricane Period. Situated between traditional Eastern landscape and contemporary global abstraction, Zao Wou-Ki's gestural vocabulary orchestrates a breathtaking symphony between line and form, colour and contour, manifesting a majestic transcendent aura echoing the natural rhythms of the universe.
值得关注的其它拍卖作品
Other highlights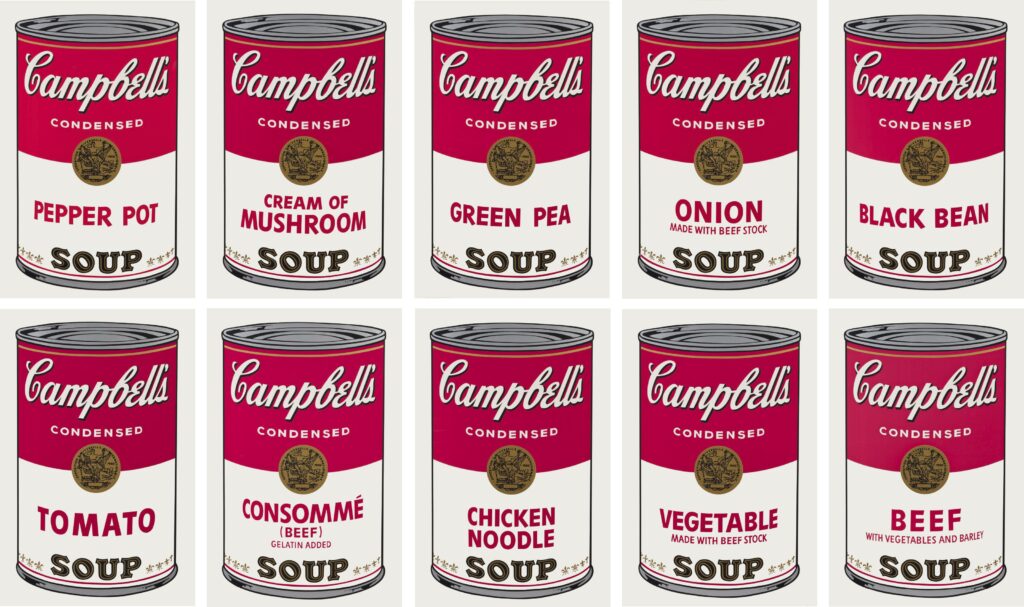 Evening Sale on 18 June and an online Day Sale from 10 – 22 June.
All photos provided by Sotheby's.