哪里吃:Preludio
谁下厨:哥伦比亚出生的33岁总厨费南度·尔伐卢(Fernando Arevalo),驻扎新加坡多年,擅用故事章节形式来呈现菜单。
吃的氛围:中央商业区大楼内的一个花园阳台空间,入夜时分寂静安宁笼罩。主厨擅以单一主题系列章节呈献"作者料理"(Author's Cuisine),这一季的主题是"时间",延续了上一回"黑白"(Monochrome)的风格。菜式看似简单实际上内容扎实。诉说了主厨与食材种植者和厨房之间的事。每道菜由侍应生或主厨本身端上的时候,都会随之送上一则关于食材或菜式来源的小故事。 
吃什么:主厨这一季以"时间"的主题,再次拼凑出让人惊喜的滋味。主厨作主的菜单以自制的裸麦面包启动,暖口开胃。第一道"时间机器"非常大气,装载了5道有不同时间元素的小菜,从用两分钟准备的生蚝到乾式熟成的6个月凤尾鱼,配上一张解说图,把吃变成一场学习。之后每一道菜都有时间主题元素,像"不够时间"是一道季节性白芦笋,因为主厨还在厨房准备下一道菜,不够时间亲自捧上,因此由侍应生代劳。其他如"一生最重要的一道菜"和"七年之痒",从陈年鸭肉到澳洲和牛,除了有时间故事,也有味道,值得细细咀嚼体会。这次的"时间"餐牌会演绎四季的时间故事,每一季的新餐牌将在换季之际揭晓。
还有:不可错过甜点师傅埃琳娜·佩雷斯德·卡拉斯科(Elena Perez de Carrasco)同样有时间故事,由她外婆启发创作灵感的甜点。
吃费:6道菜晚宴每人收费$188++/8道菜晚宴每人收费$238++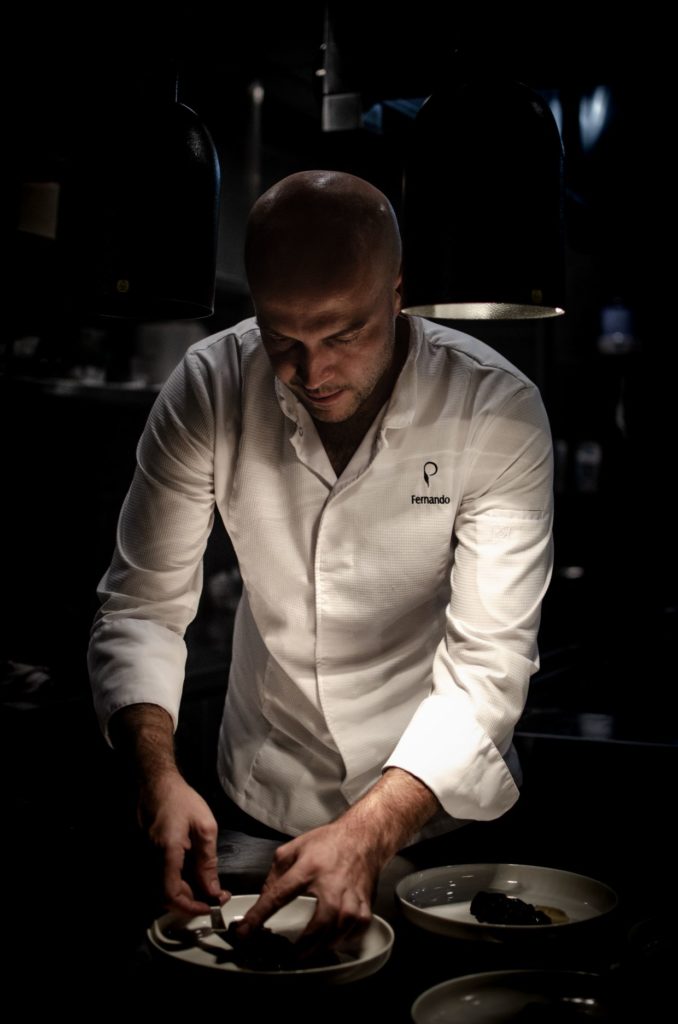 Eat Where: Preludio
Behind the kitchen: Chef-owner Fernando Arevalo, the 33-year-old Colombian chef Fernando Arevalo has made Singapore his home for the last six years. 
Eat Style: Preludio is a contemporary restaurant that aims to present a fresh perspective on fine dining, where embracing a culture of constant change and innovation helps ignite the spirit of creativity andbetterment. Chef believes in telling story through his dishes and started the first "chapter" in a journey of "author's cusinie" with a visually driven Monochromatic dishes menu in late 2018 for about 18 months. February 2020 marks the beginningof a new chapter 'Time' where the restaurant isinspired by the multiple facets of this theme asinterpreted by the team at Preludio
Eat What: Started the menu of with a beautiful freshly homemade rye bread. The "time machine" starter comes in 5 small plates with different preparation time from 2 minutes (for chef to shucked and served a Spiked Brittany Oyster to a 6-months aged anchovies caught form the Bay of Biscay). "Out Of Time" course is a in-season white asparagus prepared at tablesides. Every dish (such as "Dish of a lifetime" , "A7-year story") comes with a "timely" story behind it for diners to uncover. This chapter will run over the four seasons, a new menu will be unveiled at the turn of each season. 
What else: Time for Pastry Chef Elena Perez de Carrasco represents the past, present and future – important experiences that have significantly influenced her. Grandmother in Basque,'Amona' is a nostalgic tribute fondly reminiscent ofan after-school treat of traditional bread slathered with chocolate
How much: 6-course dinner at $188+ ; 8-course 238++
182 Cecil Street Frasers Tower  #03-01/02
Singapore 069 547