你喜欢的高档餐饮,现在更需要你的支持才能度过难关。
Here's how you can help to save your favorite fine dining restaurants during these challenging times.
Saint Pierre: 视讯吃大餐
米其林二星Saint Pierre的大厨兼老板苏鲁本推出虚拟 Saint Pierre,将高档餐饮体验在线上延续。"大厨作主"的套餐将由餐馆安排直接送到你家大门,套餐有十道菜,都是冷盘无需加热,包括日本近江牛、比利时鱼子酱,以及法国乳酪。 最妙的是,你可以与亲爱的人利用餐馆提供的链接通过Zoom视频共进晚餐,当所有人都齐聚在电脑前,大厨苏鲁本也会现身介绍菜式,并与餐客交流。 根据人客数目,套餐有两个选择, 分别为每人$180++和$200++。 值得一提的是,餐馆携手投资公司Rapzo Capital爱心捐赠2万5000元,每售出一个虚拟套餐,餐馆将向Project Chulia Street购买一个防止冠病关怀配套(CPCP),以援助受疫情影响的客工。此外,餐馆每个星期也将为客工准备100份餐饮,直到阻断措施结束为止。
Saint Pierre: Fine dining over a Zoom call
Chef-owner Emmanuel Stroobant of two-Michelin-starred fine diner Saint Pierre launched Virtual Saint Pierre, a fine dining experience during this circuit breaker period.
The omakase meal is hand-delivered by the restaurant's suited staff to your doorstep. The meal is served in lacquered bento boxes, which includes 10 dishes, designed to be eaten cold, which include Japanese Omi beef. Royal Belgaian oscietra caviar and French cheeses.
And the best part, you can dine with your friends and loved ones over a Zoom conference using a link provided by the restaurant. Once all your guests have gathered, Virtual Saint Pierre commences with an appearance by none other than Chef Emmanuel himself, who will interact with guests and introduce the menu's selection of the day.
There are two menus available for the Virtual Saint Pierre Experience. For a large group, on any of your preferred days, your choice of Menu 1 ($180++ per person) or Menu 2 ($220++ per person) with a minimum order of 15 and maximum of 30 people. A minimum five-day advance notice is required for large orders.
As a show of solidarity in light of the COVID-19 pandemic, Saint Pierre has partnered with investment company Rapzo Capital to contribute $25,000 worth of in-kind donations. For every order of a Virtual Saint Pierre menu, the restaurant will purchase a Coronavirus Prevention Care Packet (CPCP) from Project Chulia Street, that will benefit migrant workers in Singapore who are affected by the crisis. In addition, Saint Pierre will donate 100 specially prepared meals to frontline healthcare workers every week until circuit breaker measures are lifted.
For enquiries, please contact 6438 0887 or email .  
Odette: 在家享用米其林三星餐饮
亚洲最佳餐馆和米其林三星餐馆Odette的主厨兼老板罗耶精心设计了他拿手的季节性餐牌,让你在家也可以享用三星餐饮,如北海道海胆、 祖传番茄、焖鸽,以及法国布雷斯鸡等,只需提前一小时预订,就可送上你家。
Odette也推出了一个社交媒体平台,鼓励食客利用#OdetteAtHome 和 @OdetteRestaurant @Chef_Julien 等标贴,将在家享用三星餐饮的体验与大家分享。
Odette: 3-Michelin-Starred dinner at home
Asia's best restaurant and 3 Michelin starred restaurant Odette co-owner-chef Julien Royer has curated an elegant showcase of iconic and seasonal plates, such as Hokkaido Uni 'Pain Perdu", Heirloom beetroot, Kampot peper pigeon or whole roasted poularde de bresse, available with Odette at home for takeaway and delivery, to create your own multi-course Odette experience around the table with your loved ones
Also, Odette has launched a social media campaign for guest to post and hashtag #OdetteAtHome and tag @OdetteRestaurant @Chef_Julien. Chef will select the most creative presentation of Odette at Home. The lucky winners will be announced at the end of the challenge and receive a surprise Odette experience.
Orders for takeaway can be placed by email  at least 1 hour in advance.
Preludio : 艰难时期饮食时间票
Preludio主厨费南度擅长以时间主题设计餐牌,之前的"时间"和"黑白"都大受欢迎。随着阻断措施的实施,费南度大厨现在推出"艰难时期饮食时间票",这项由费南度主催的饮食界运动,与其他餐馆如 Cure, Meta, Odette. Ola Cocina Del Mar, Tono Cebicheria 联手,让食客能以特别优惠价格预先购买一张"饮食时间票",持票者能在一年之内,随时利用票根到餐馆用餐。想要支持更多的食客,还可以在"小费箱"中表明要给多少小费,这些小费将平均分配给参与的餐馆,帮助饮食界的同伙通过难关。
此外,Preludio在这非常时期也推出送餐服务。
Preludio : Tough Time Ticket
Not long after Preludio's Chef Fernando launches his second chapter "Time" (after his first chapter "Monochrome" of his "Author's Cuisine", the circuit breaker sets in.
To overcome this tough challeng, Chef Fernando has launched "Tough Time Ticket", an initiative introduced by Preludio to overcome this challenging climate. It has been expanded to unite with other fine dining restaurants (such as Cure, Meta, Odette, Ola Cocina Del Mar, Tono Cebicheria) to weather this difficult
 period as one.
With this initiative, the community is not only supporting these restaurants, but more importantly, the people behind them.
Each participating restaurant has created unique offerings that gives back in the way they know best – great food and service; for instance, at Preludio, the ticket entitles one to a full 8- course dinner meal for the price of a 6-course that can be claimed anytime within a year from the purchase. They can also show their support by contributing any amount to the tip box where proceeds will be distributed equally to all the restaurants in this initiative. Tough Times Tickets can be purchased online.
The team has been working hard to bring you the best of Preludio to your home with The Preludio Shop!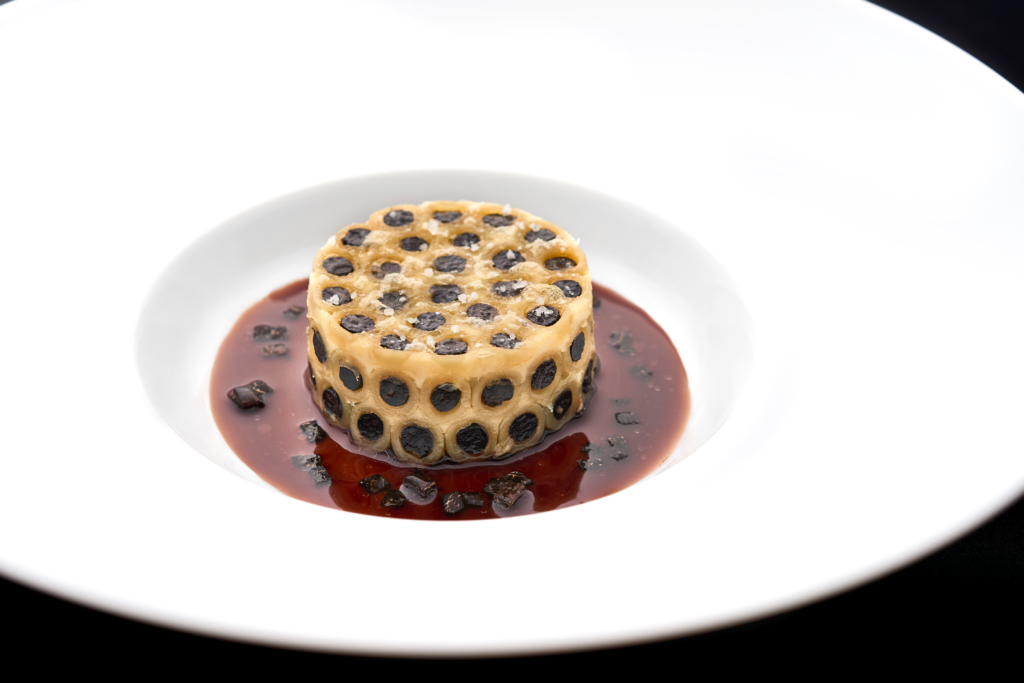 Vianney Massot餐馆:法国美食美酒
米其林 一星餐馆Vianney Massot 最近扩展了其送餐服务,餐牌上的项目现在有更多选项如通心粉、芦笋,以及珍珠鸡等。你还可以在家用餐的时候配搭由餐馆精心搭配的许多法国美酒。只需要提前一天上网预订,可选择送餐或自己前往提取。
Vianney Massot Restaurant : Signature French dishes with fine wine
One Michelin-starred Vianney Massot Restaurant has just expanded its takeaway  and delivery menu! Massot was the executive chef of the now-defunct two-Michelin-starred L'Atelier de Joel Robuchon Singapore and a long-time protege of the late legendary French chef, Joel Robuchon.
The menu features more signature dishes from the contemporary French restaurant such as Le Macaroni (macaroni cheese gratin with black truffle, celeriac and foie gras), Les Asperges Mimosa (white asparagus with yellow egg mimosa and truffle dressing), La Pintade (roasted guinea fowl, foie gras and potato confit), and many more!
You can also elevate your dining experience at home with Vianney Massot Restaurant's specially curated beverages with highlights including a 2008 vintage Delamotte Blanc de Blancs Brut, 2014 white: Nuits-Saint-Georges 1er Cru La Perrière Domaine Henri Gouges and, 2007 red: Pomerol, Château Eglise Client. You can also experience Spring in France with organic juices from Bordeaux and Drôme!
To order, please proceed online one day in advance or contact +65 8921 0239 for assistance. Enjoy free delivery for order above $200 or you can also do self pick-up at the restaurant from Monday to Sunday, from 11am to 3pm and 5:30pm to 9pm.
Beni : 还好还有乳酪蛋糕
阻断措施实施期间,最难受的其中一件事是糕点店都不能开业。还好Beni餐馆现在原本已经很丰富的送餐餐牌上,加入了让人垂涎的巴斯克焦香乳酪蛋糕,让你能继续欢庆母亲节和家人的生日,提前一天预订既可。
Beni : Basque Burnt Cheesecake for your celebration
Expect the same top quality seasonal ingredients from Japan and France in the one Michelin starred Beni's takeaway set menu, available from Wednesdays to Sundays with a pre-order. The set menu features Japanese Fish Escabeche, Chicken Fricasee, Beni's Signature Mushroom Soup and Foie Gras Pao and comes with Bordier butter to go with assorted homemade breads and a sweet selection of mignardises. Most recently, Beni has added Basque Burnt Cheesecake (pre-order one day in advance) to the menu. With the bakery closed, this cheesecake may be the best option for your birthday or mother's day celebration.
Free delivery is available with a minimum of four sets ordered. To order, call +65 9159 3177